I competed in the Tahona Society UK heats a couple of weeks ago, and the hangover has just subsided enough for me to announce here that I was the winner. It was an amazing day and the quality of drinks was incredible, so I'm really shocked and so happy. As this picture definitely shows.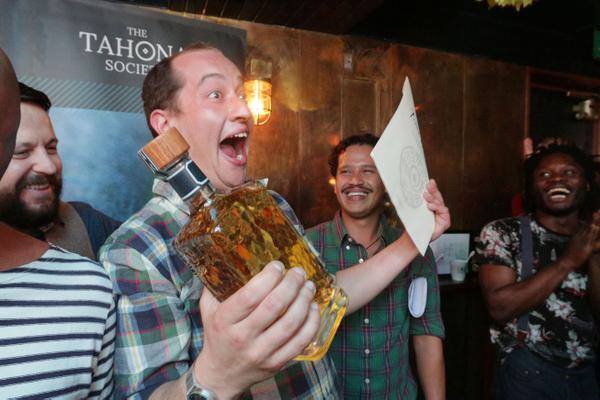 Thanks to the Tahona Sociaty and Olmeca Altos for putting on the training and competition day, and Wahaca and Hawksmoor for providing food and (so, so many) margaritas for the competitors. And the judges! An all round brilliant day.
I'll be off to Mexico at the end of June to compete in the Global final, which is going to mean a week of hanging out in agave plantations, seeing the distillery in action, checking out the local markets and restaurants in order to create a new drink with Olmeca Altos inspired by the flavours of Mexico. I've already got a great pun name lined up, so hopeful!
The drink that won the UK heat is pretty simple; it's called the 'Five Go To Mexico', and it's a lovely punchy springtime sour.
To start with, you'll need a couple of ingredients; rhubarb juice and sherbet. To get rhubarb juice, you just need to run the rhubarb through a juicer. No need to cook it before hand, but once you have the juice I recommend straining it and allowing it to settle and pouring off the pink liquid from the green solids. To make the sherbet, take 1 part malic acid and mix with 4 parts caster sugar. I then added dandelion and burdock bitters for another classic British flavour, but no worries if you don't have that (you could use citric acid for this, too; just change the ration to 1 part acid to 2 parts sugar).
Once you've got those ready, you're ready to go.
Five Go To Mexico
50ml Olmeca Altos Blanco tequila
10ml St Germain Elderflower
15ml Agave syrup
35ml Rhubarb Juice
Shake and strain, and service in a chilled coupe rimmed with your sherbet.