The Manhattans Project and Moshi Moshi present a Valentines evening to remember; join us for four courses of exquisite Japanese food, matched with cocktails curated by the Manhattans Project.
We'll be offering two sittings for the evening; 6:30pm – 8:30pm and 9pm – 11pm. Alternatively, you can join us at the bar and order courses individually without booking.
The 4 course menu costs £65 per person, and a la carte courses are £15 each. To book, call Felix on 07843 613628, or email [email protected]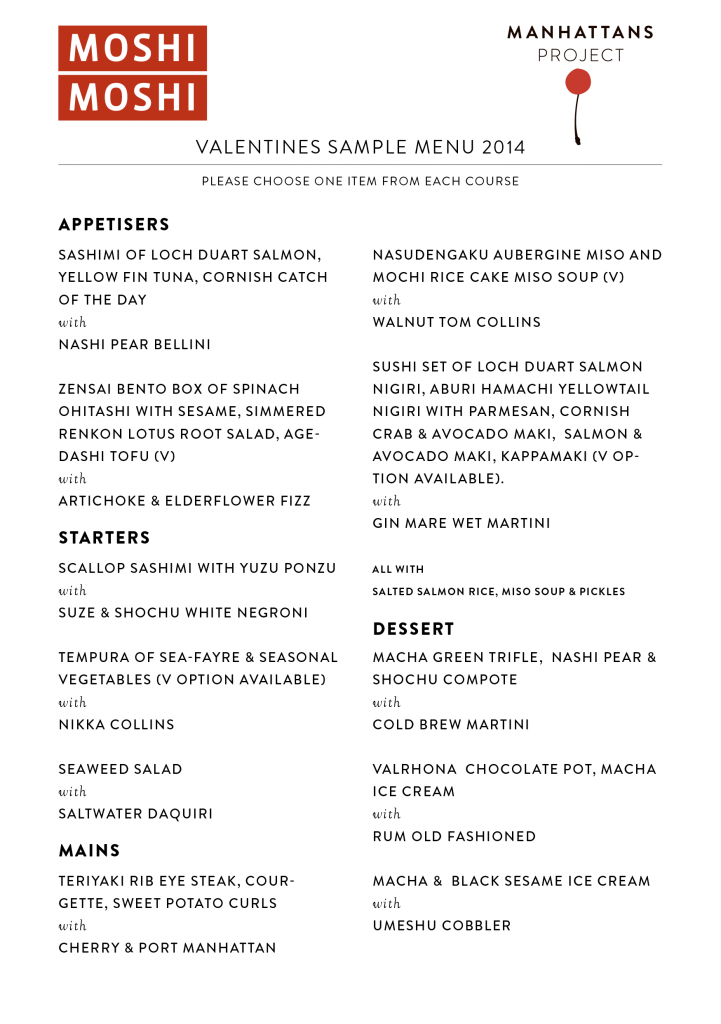 Manhattans Project is a pop-up bar run by itinerant bartender Felix Cohen. We specialise in updated classics and don't take ourselves too seriously. Drinks are simple, showcasing the best spirits and liqueurs available, and taking inspiration from our various venues and themes. And of course, our House Manhattan is unbeatable.
Moshi Moshi is a calm, discreet place serving authentic Japanese sushi and izakaya-style dishes. Tucked away at the side of Liverpool Street Station, our restaurant was designed by Kaneshiro Yusaku, one of the Japan's leading restaurant designers working in Japan today. We work hard to foster relationships with local food producers, thereby reducing food miles whilst at the same time supporting a thriving and sustainable local economy.  Our sushi and sashimi is made using fish sourced from our Slow Food fisherman in Cornwall, and made by our three sushi chefs who have a century of experience between them! Our izakaya dishes range from classic yakitori skewers and seaweed salad, to steamed Cornish catch of the day and rib-eye steak teriyaki.